A strategy to make the world smile with Elior Group
Client

Type

Sustainability strategy, Communications

Awards

The Sabre Awards 2017 (Shortlisted, CSR Category)

Share
Client

Type

Sustainability strategy, Communications

Awards

The Sabre Awards 2017 (Shortlisted, CSR Category)

Share
Challenge

How can we help Elior Group lead the way on global food issues?
As the caterer of choice serving 5.5 million customers daily, Elior Group wanted to contribute positively to global issues. Rising health problems were becoming material to the business, such as worldwide obesity and the 642 million adults predicted to have diabetes by 2040. Environmental challenges caused by agriculture, such as increases in food waste, and demand for fair labour were also high on the agenda. 
Elior were feeling pressure from clients, investors, NGOs, and increasingly consumers, to act. Added to this, COP 21 was providing a new focus on climate change, science based targets were building moment and the race was on to align with global UN SDG's.
With the business undergoing rapid transformation and an existing 'inside-out' sustainability strategy, they needed a new outward-looking approach. This meant moving away from traditional risk models in order to raise the bar enough to achieve their growing ambition.
Solution A new platform, an inspired vision and four big commitments.
Based on materiality analysis, business strengths, megatrend insights and global priorities, we identified where Elior Group could make the biggest positive. We created four commitment areas across their entire value chain, which aligned to four the UN's Sustainable Development Goals (SDGs) identified. 
We created a positive brand identity, developed a memorable name and a simple look and feel based on a 'smile' to echo positivity. This was supported by a suite of launch, training and communications materials to engage guests, clients, potential partners and employees globally on what the Positive Foodprint Plan means to them.
We've also engaged with NGOs to develop industry-leading policies and prepared industry trends and insights reports for senior management.
Since its launch on World Food Day 2016, the strategy has been rolled out across multiple channels to engage Elior Group internal and external stakeholders in taking action towards the new sustainability goals and to help advance a sustainable future for food.
The plan showcases Elior Group's commitment to achieve a positive foodprint, from farm to fork, by 2025.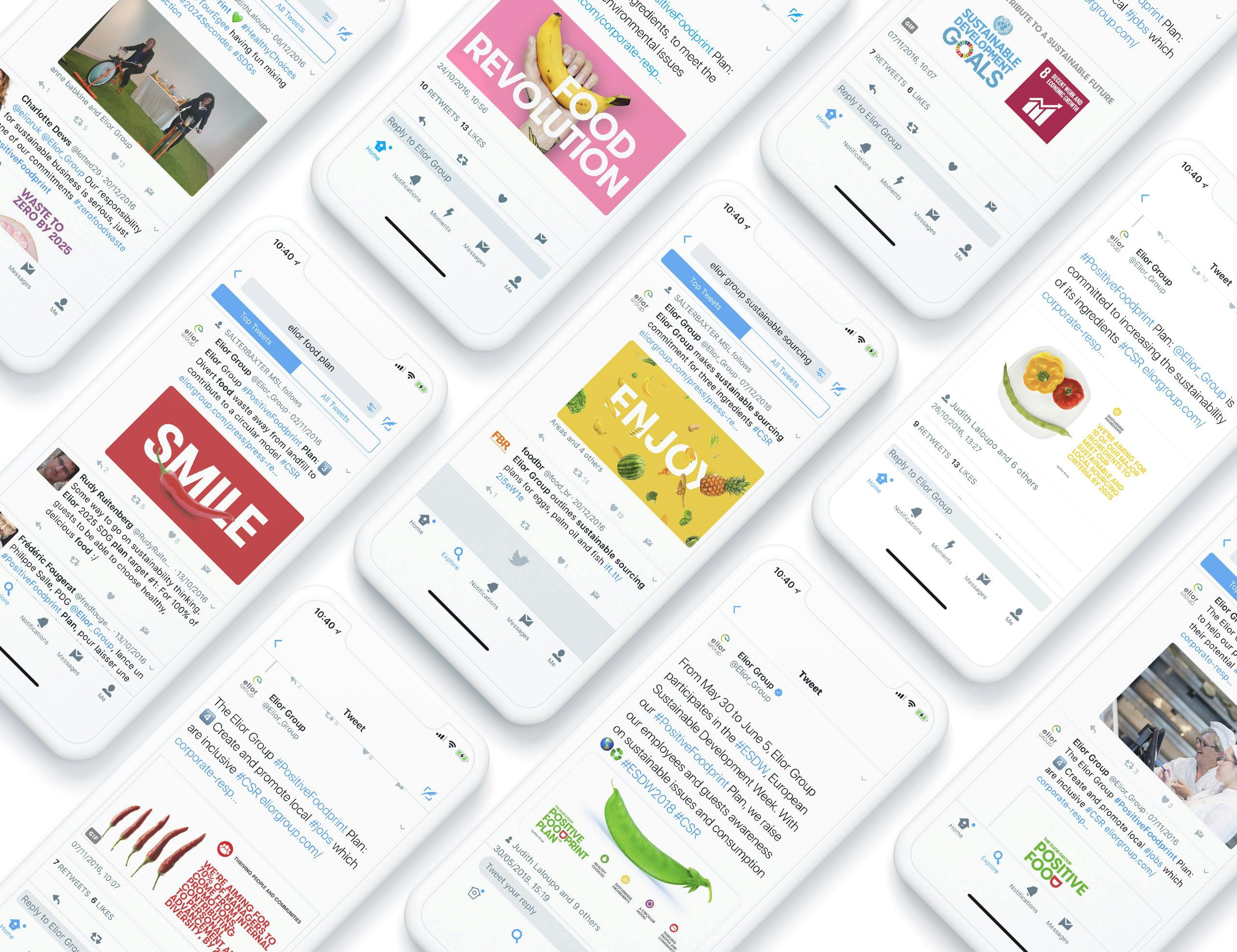 120k

120,000 Elior Group employees aligned to the Positive Food Plan

5.5m

Serving 5.5million customers daily

16

Operations in 16 countries
Download
For details on how we use your personal information, see our Privacy Notice.