Bright thinking to find bright minds with DSM
Client

Type

Awards

Sabre 2018, Crowdsourcing and co-creation

European Excellence 2017 Influencer comms

Share
Client

Type

Awards

The Sabre Awards 2018 (Winner, crowdsourcing and co-creation)

Share
Challenge

How can DSM find bright renewable solutions to the world's biggest problem?

DSM believe science can change the world. As a science-based company they use technology and innovation to create ingredients that makes human and animal food more nutritious and less climate-intensive; cars lighter and more fuel efficient; materials that are bio-based and endlessly recyclable; and solar panels that are more effective. But in a B2B sector, how could they build their profile with a global audience?

DSM wanted to evolve their 'Science Can Change the World' platform from a campaign to a movement for societal change. Believing that the solutions to some of the world's biggest problems already existed – we just needed to help DSM find them. 
We developed the Bright Minds Challenge: a public initiative on renewable energy, designed to identify and connect with a global community of scientists and technologists across the world to surface solutions that made renewable energy more scalable, efficient and accessible to all.
Using a data-led approach to identify influencers and innovators, the campaign reached deep into niche science and technology communities and built a global movement behind the competition.
The finalists and ultimate winner were announced at key events in Boston and Amsterdam, with DSM and its partners pledging support to take the winner – Professor Ernest Calvo's INQUIMAE solution for extracting lithium using solar power – through to execution.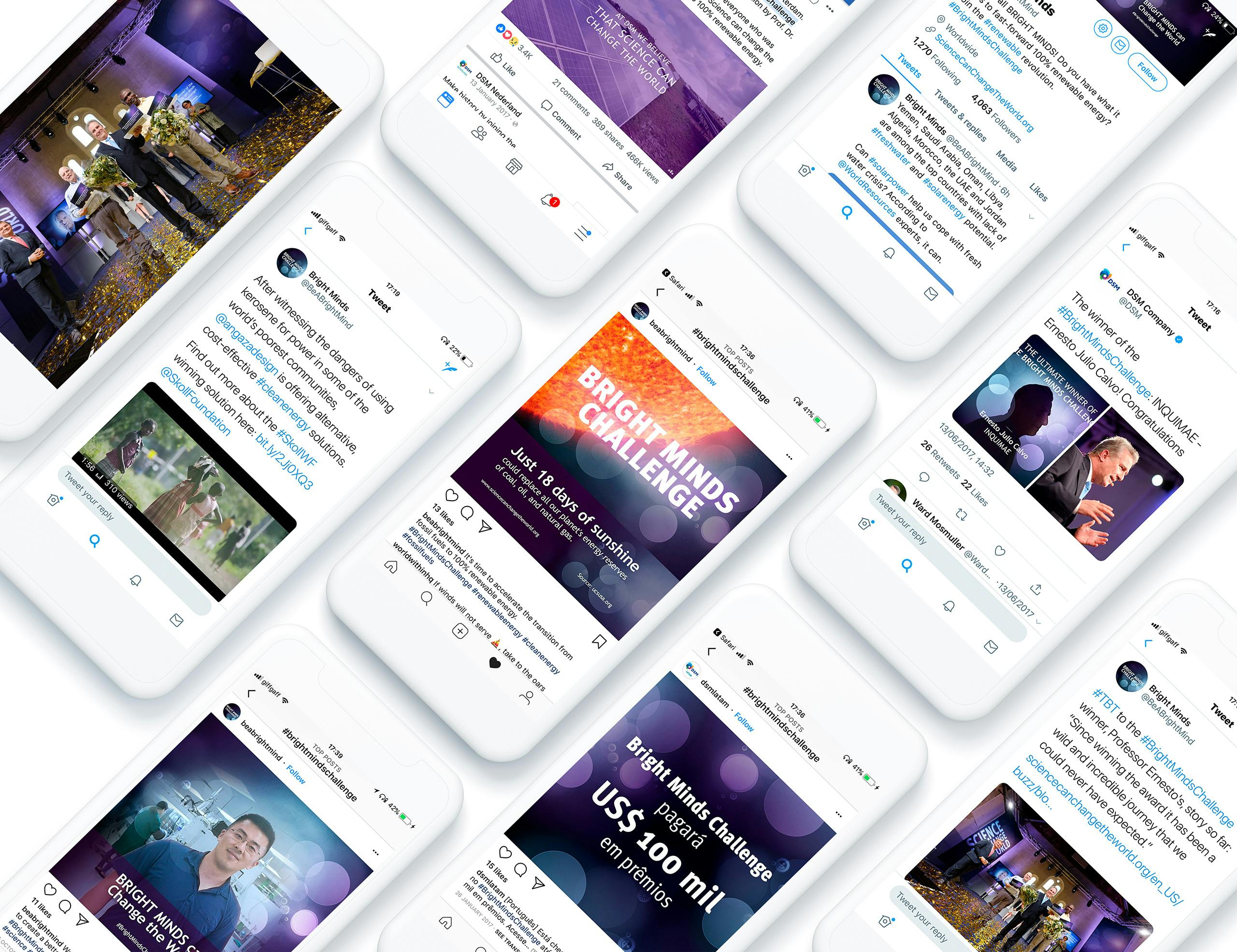 Bright Minds Challenge surfaced ground-breaking scalable solutions for renewable energy and mobilised scientists, governments, businesses and the public, including top level influencers and the United Nations.
It raised considerable profile for DSM (including an audience with Argentinian President Mauricio Macri) consolidating their reputation within the top 0.1% of leaders for innovation, climate change and sustainability and more broadly as a key opinion leader and convener in science and renewables.
The global competition and supporting campaign secured 55 applications from scientists in 22 countries over five continents, over 5,000 votes and 104.5 million impressions, raising the DSM profile considerably as a key opinion leaders and conveners in science and renewables.
Awards include:
The Sabre Awards 2018 (Winner, Crowdsourcing and Co-creation)
The Sabre Awards 2017 (Shortlisted)
European Excellence Awards 2017 (Winner, Influencer Communications)
55

55 applicants from 22 countries

5K+

104.5m

104.5 million impressions
Download
For details on how we use your personal information, see our Privacy Notice.